Structural Steel Fabricator
Charleston Steel is a Structural Steel Fabricator and we are an AISC Certified shop. We are subject to annual evaluation and review. Our quality system is audited annually by Quality Management Company, LLC, to confirm that we have the personnel, knowledge, organization, equipment, experience, capability, procedures, and commitment to produce a quality product.
American Welding Society (AWS) Certification.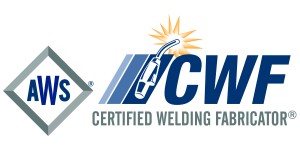 We are also certified by AWS for the Certified Welding Fabricator certification. AWS makes sure that our welding procedures covering all joints, processes and positions used in fabrication are current and approved by the AWS.
Holding these internationally recognized quality certifications demonstrates our commitment to quality.
Charleston Steel has been fabricating structural steel for Commercial and Industrial projects for over 34 years. Let us see what we can do for your next project! Contact Us